Colorado Wills & Trusts Attorney
July 18, 2022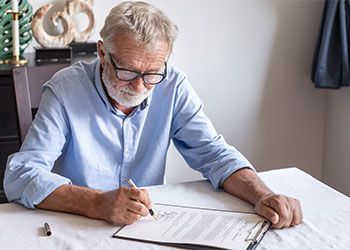 Do you wish to assist the loved ones around you even after you have passed? If so, you should prepare a will or trust. A will can be daunting to think about, especially since it holds so much weight. But with the right will lawyer, you can get it done with ease. Scott Terry is a professional living trust attorney and living will lawyer in the Sumner, WA area. He has worked with many clients to build legal documents that clearly specify how their belongings will be handled after death. This can include anything from taking care of minors, paying taxes, or providing for education. So, if you're ready to discuss the contents of your trust or will, contact Attorney Terry today for a free consultation.
Terry Law Firm offers will and trust services in:
Sumner, WA

Puyallup, WA

Orting, WA

+All neighboring communities

Living Will Attorney vs. Trust Attorney

A will is a legally enforceable document that states how your affairs will be handled after death. But a trust is a fiduciary relationship where you give another party the ability to handle your assets for the benefit of your beneficiaries. These things may seem very similar, but they are handled very differently. Unlike a will, a living trust passes property outside of probate court. This is something that a trust and will attorney can help elaborate on. This is why it is important that when you handle such documents, you are placing them in good and knowledgeable hands. Attorney Terry has had decades of experience handling wills and living trusts. So, if you need a professional in Sumner, WA to assist you in the process, let him know. He will happily help you with anything that you need.

Set Your Family Up For Success: Why You Need a Trust Attorney

Oftentimes when people realize they have enough assets to help out a loved one, they find that they should legitimize it. Providing a living trust helps you not only maintain control over your assets but also carries out your wishes once you're gone. A living trust is made during an individual's lifetime and lists how their assets will be distributed at the time of their death. As consumers learn more about that process, they tend to have many questions that they would like answered. For example, how exactly does a living trust work? Can anyone take advantage of it? When you're making a document as important as this one, it's advised that you hire a trust attorney to ensure that you prepare it properly. If you are including complex aspects such as trust funding assistance, generation-skipping, or conditions to beneficiaries, you should ensure it's done correctly. At that instant, we recommend you talk to Attorney Terry about being your living trust lawyer. Not only will he be able to provide answers for questions like these, but he will also be able to suggest ways to improve the trust, that way things carry over more easily once you have passed.

Attorney Scott Terry is an experienced trust and will lawyer that helps create and carry out wills for clients. This process is extremely important for many families, which is why he ensures that he carries them out carefully. Please get in touch with Terry Law Firm today if you're ready to receive assistance for your will or trust.