Misconceptions about Car Accident Claims in Washington
March 9, 2022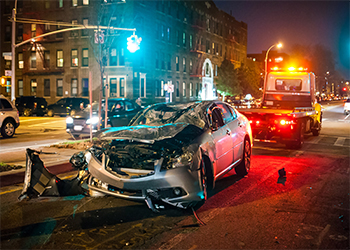 Everyone seems to have an opinion about the law in Washington, especially as it relates to car accidents and car accident claims. Even if those opinions are expressed by someone who has been in a car wreck, that does not necessarily mean they have all the facts. Every incident is unique, and every case Attorney Scott Terry has handled during his 30 years as a personal injury attorney has been unique as well.
If you have been injured in a car accident in Sumner, Puyallup, Kent, Bonney Lake, Lake Tapps, Orting, Auburn, or in Pierce, Thurston, or King counties in Washington, you should make decisions based on the facts. Terry Law Firm, P.S., can provide you with the information you need, beginning with resolving these four common misconceptions.
1. I feel OK, so I don't need medical attention.
How you feel right now may not be how you feel in a few hours, days, or even months. The injuries that occur during the most minor impacts can be serious, even if you don't experience symptoms right away. If you have been in an accident, you should seek medical attention at the scene or at an emergency room shortly thereafter. Trauma professionals know what types of injuries to look for, how to examine and test you for them, and how they should be treated. A delay in treatment of some injuries could mean you never recover from them.
If you file a claim against the bodily injury liability coverage of the other driver's car insurance, you will need a medical diagnosis relating to the injuries to the accident. You will also need medical bills and other losses to file a claim. If there is a significant delay between the time of the crash and the time you see a doctor, the insurance company will use it to allege that either your injuries were not serious enough to warrant treatment or that you were injured some other way after the accident occurred.
2. It was a minor accident, so it doesn't need to be reported.
Washington law requires that a report is filed with the Department of Motor Vehicles within four days of any auto accident, no matter how minor, so long as someone was injured or damage to property is at least $1,000.
You need to complete and submit a Motor Vehicle Collision Report. If law enforcement is at the scene of the crash, they will file a report, so you don't have to.
3. I might have been partially at fault, but that won't affect the amount of compensation I get.
It is true that Washington is an at-fault state for auto insurance which means the person at fault is financially responsible for compensation of those they injure. However, the state also observes a comparative negligence rule which means your recovery can be limited by any amount of fault assigned to you.
For example, suppose you are assigned 20% of the fault for an accident and the other driver is assigned 80% of the fault. A jury awards you $100,000 in total damages, but you will recover only $80,000 before case expenses and attorney's fees. That is because your recovery is reduced by your percentage of liability, which in this example is $20,000.
4. An attorney isn't necessary for me to file a personal injury claim.
This is accurate to a certain extent, but with a significant caveat. Hiring an experienced car accident attorney to represent you will not only make the claims process much easier, but you will likely garner a better recovery even after attorney's fees. Your attorney will know how to investigate a claim, value your economic and noneconomic damages, negotiate with insurers, and present your case in court if necessary.
Insurance policies are inherently difficult to understand, as laws and rules change over time. The burden of proof of negligence must be met. An attorney who focuses on personal injury cases will know the law and will be able to use their experience to your advantage.
How an Experienced Attorney Can Help You
Attorney Scott Terry has been successfully challenging insurance companies on behalf of his clients for over three decades. He is a tough negotiator, a formidable attorney at trial, and a dedicated advocate for his clients in Sumner, Puyallup, and in King, Thurston, and Pierce County, Washington. You can benefit from his experience, and he is ready to provide it. Call Terry Law Firm, P.S. now to schedule a one-on-one consultation.