Personal Injury Claims in Washington
May 30, 2022
Suffering an injury in an accident or due to negligence can be a frightening situation. How will you work? How will you pay your bills and support your family? Personal injury law covers a wide range of accidents, and the level of your injury can make a big difference in how your claim will be pursued.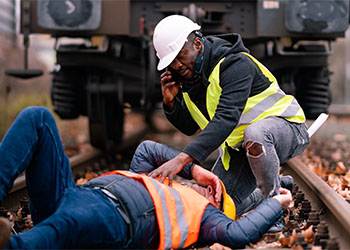 At Terry Law Firm, P.S., attorney Scott Terry provides clients with a clear picture of what a personal injury lawsuit encompasses. The process is rarely easy; defense attorneys and insurance adjusters often employ tactics to wear a plaintiff down. With that in mind, attorney Scott Terry fiercely advocates for injured clients in Sumner, Puyallup, Kent, Bonney Lake, Auburn Lake, Tapps, Orting, and the counties of King, Pierce, and Thurston, Washington.
Kinds of Injury
Claims We Handle
A personal injury includes any harm that would not have occurred if not for the negligence of another person. Because an injury can happen anywhere at any time, there is a wide range of potential types the Terry Law Firm, P.S. handles, including those that usually result from the following:
Car Accidents

Wrongful Death

Brain & Spine Injuries

Motorcycle Accidents

Truck Accidents

Premises Liability

Boating Accidents

Bicycle Accidents

Pedestrian Accidents

Dog Bites
Personal Injury Claims in Washington
Personal injury claims in Washington fall under at-fault rules, meaning the person causing the injury will be held liable and required to pay damages. However, the state also has a pure comparative negligence system, which by law says that any contributory fault of the plaintiff reduces the amount awarded to them by their share of the total fault for the accident.
Like any case, Washington has a deadline for filing a personal injury claim, known as the statute of limitations. In Washington, personal injury claims have a three-year statute of limitations from the date of the injury. If you miss this deadline, you will not be able to file a lawsuit.
Filing a Personal Injury Claim
When filing a personal injury claim, there are generally three options: filing a claim with your own insurance company, filing a claim against the at-fault party's insurance, and filing a lawsuit.
Filing a Claim with Your Insurance Company
One of the first steps after an injury is to file a claim with your insurance company. This will provide important context and documentation should you move into the litigation phase of your case.
Filing a Claim Against the At-Fault Party's Insurance Company
Most likely, your attorney may want to make a demand to the at-fault party's insurance company and try to settle the case before a lawsuit is filed. This may make more sense with a smaller claim or one that can likely be settled quickly. However, when there is a lot at stake or serious injuries are involved, the case will not likely be settled before the lawsuit is filed. Ultimately, the decision to settle or not to settle is up to you.
Filing a Lawsuit
Personal injury lawsuits can be complex, involving several phases of negotiation, litigation, and more. To start, the discovery process can be complicated and time-intensive. Each side may object to specific questions or requests for information. In these specific cases, the judge may have to make a determination to compel actions by the other party.
However, if the case ultimately does go to trial, it can be a long and costly process. Additionally, juries can be unpredictable. In some cases, it may be advantageous for the plaintiff to accept a settlement offer to avoid the unknown result of a trial.
Damages Available
Most personal injury damages are classified as compensatory, meaning that they are intended to compensate the injured plaintiff for what was lost due to the accident or injury. Common damages include the following:
Medical treatment/bills

Loss of Income

Property loss

Pain and suffering

Emotional distress

Loss of enjoyment

Loss of consortium
Skilled Legal Representation in Sumner, Washington
The personal injury process is a difficult one. From start to finish, having an experienced, capable personal injury attorney is vital to the potential outcome of your case. If you or someone you know has been injured in an accident, time is of the essence. Contact attorney Scott Terry's office in Sumner, Washington, today to schedule a free consultation. The team proudly serves clients in Puyallup, Kent, Bonney Lake, Auburn Lake, Tapps, Orting, and the counties of King, Pierce, and Thurston, Washington.