The Importance of Medical
Attention After a Car Accident
Feb. 15, 2022
In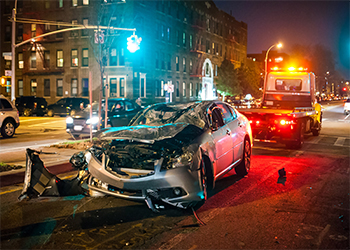 the moments and hours after a car accident, the people involved have important steps to take. The most important thing to address after a car accident is your health. Car accidents are all too common, and the consequences can be extremely serious. From an injury that leaves you unable to work, to expensive repairs to your vehicle, a car crash can affect your life for years following the accident.
If you're involved in a car accident, seeking medical attention and not seeking medical attention can have significant impacts on your health and potential personal injury case.
With over 30 years of experience practicing law, Attorney Scott Terry fiercely advocates for individuals who have been injured in car accidents. Terry Law Firm, P.S. serves individuals and families in and around Sumner, Washington, as well as Puyallup, Kent, Bonney Lake, Auburn, Lake Tapps, Orting, and King, Pierce, and Thurston counties.
Common Injuries After a Car Accident
Car accidents look different for every victim, but many of the injuries sustained in severe accidents could impact them for years to come. Victims likely will require advanced care or costly treatments. Some of the most common injuries seen in car accident victims include:
Whiplash

Head, neck, and shoulder injuries

Lacerations

Fractures and broken bones

Back strains
Why You Should Immediately Seek Medical Attention
Simply put, seeing a doctor after you've been involved in a car accident is vital, even if you don't feel hurt. Directly after a car accident, you may not feel pain due to adrenaline, which can mask immediate pain.
Unfortunately, that pain can come with a vengeance once the adrenaline calms down, or even a few months down the road, and by then, it might be too late for you to reverse the damage. After the car accident, it's important you go to a doctor for several reasons. First, it allows you to make sure nothing is wrong and that you're safe, but it also allows for documentation in the case that something is wrong. You can heal faster, but you also will have proof of the need for compensation.
Without proof of injury, insurance companies are much less likely to give you the compensation you need. It's common for insurance companies to deny or give the minimum settlement amount possible. If you have documented proof of your injury immediately after (or as soon as possible), then it's much harder for the insurance company or the defendant's attorney to fight against your needed settlement. These documents are critical evidence.
Sticking to the Treatment Plan
Generally, a person should make the trip to their primary doctor or urgent care within three days of the accident. But going to the doctor and getting diagnoses aren't the end of the process. It's essential that you listen to your doctor and follow the treatment plan.
This includes taking medication, going to any physical therapy or doctor's follow-up appointments, and taking the rest your doctor has prescribed. In other words, listen to your doctor. If you don't, not only will you not heal the way you should, but the insurance company can reduce the settlement or deny the claim due to noncompliance.
Not only is it important to seek medical treatment after an accident, but it is also important to follow all of the doctor's recommendations regarding the treatment plan. This means filling any prescriptions, participating in physical therapy, following orders regarding rest, taking over-the-counter medications, getting time off of work or school, and attending all follow-up appointments.
Call an Experienced Sumner, Washington, Personal Injury Attorney
At Terry Law Firm, P.S., Attorney Scott Terry and his team work diligently to help their clients after an injury incurred from a car accident. Your first step is to go to the doctor immediately after an accident, follow the doctor's orders, and then contact an attorney who can support you. If you're located in Puyallup, Kent, Bonney Lake, Auburn, Lake Tapps, Orting, or in King, Pierce, and Thurston counties, call today to schedule a free consultation.