Understanding Insurance Bad Faith Tactics
March 25, 2022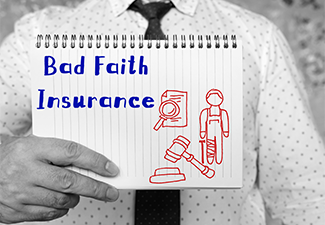 Insurance providers in Washington and across the United States are expected to investigate injury claims thoroughly, negotiate with plaintiffs, and settle claims in good faith. Surprisingly, not all insurance carriers comply with these rules. Some unscrupulous insurers employ various bad faith tactics when settling injury claims, such as offering low settlements, denying valid claims, lowballing, misrepresenting the law, or unreasonable delays.
If an insurance company has denied your valid claims, or if the insurer is negotiating your claims using bad faith tactics, retaining an experienced Washington personal injury attorney is crucial to help protect your best interests. At Terry Law Firm, P.S., Attorney Scott Terry is poised and ready to advocate for the legal rights of personal injury victims and their loved ones.
He will investigate the insurance company's conduct thoroughly, determine whether your claims were affected by bad faith tactics, and help you pursue the financial justice you are entitled to. Terry Law Firm, P.S. is proud to serve clients across Sumner, Washington, and the surrounding areas of Puyallup, Kent, Auburn, Bonney Lake, Orting, Lake Tapps, as well as King, Pierce, and Thurston counties.
Common Bad Faith Tactics
Bad faith tactics can be described as the unethical, unjust, or deceitful practices used by insurance providers to undervalue, deny, or delay payments of valid injury claims. Such bad faith tactics make many claimants and accident victims experience financial hardships or bear the financial liability of their personal injuries. Here are some of the most common bad faith tactics used by insurers:
Lowball First Offer
Lowballing involves offering a claimant a ridiculously low amount compared to the actual value of their injury claim. Many insurance providers use this bad faith conduct to frustrate or discourage plaintiffs. In some cases, the claimant may reluctantly accept the insurance carrier's first settlement offer due to mounting medical expenses and financial adversity. Essentially, you should never accept the insurer's settlement offer until you reach your Maximum Medical Improvement (MMI), meaning your condition can't be improved any further.
Long and Unnecessary Delays
Under Washington law, insurance providers have 45 working days to settle a claim after it is filed. Also, the insurer must inform clients as to whether their claim has been denied or accepted within 15 working days. Conversely, some insurers try to unnecessarily delay injury claims, failing to acknowledge, investigate, respond, or offer a fair settlement. They often do this to frustrate claimants or to make you stop pursuing your injury claims.
Failing to Conduct a Thorough Investigation
Washington law specifies that the insurer must complete their claim investigation within 30 days of receipt of the claim. Some insurers intentionally fail to conduct any investigations. Instead, the insurance provider is quick to cite comparative negligence in order to deny or undervalue the amount of damages that the plaintiff can recover.
Misrepresenting the Law or Policy Language
Insurance companies must act in good faith and fair dealing, being totally transparent and honest in their statements about the policy and the law. Unfortunately, some deceptive insurance carriers may purposely interpret policy language against the claimant. This is a bad faith tactic.
Others
Some other examples of insurance bad faith tactics include:
Offering a lower settlement than the actual worth of a claim

Refusing to pay a valid claim

Declining reasonable requests for documentation from the plaintiff

Denying valid injury claims without giving any tangible reason

Hiding important information about claims or using deceptive practices to avoid paying the claimant

Making threatening statements to claimants, policyholders, or third parties
If the insurance provider is negotiating your claims using bad faith tactics, you need to reach out to a skilled personal injury attorney straight away. Your attorney can enlighten you about the laws and rules addressing your unique situation and help protect your best interests.
Washington's Insurance Fair Conduct Act (IFCA)
In 2007, Washington enacted the Insurance Fair Conduct Act (IFCA). According to the Act, it is unlawful for an insurance company to unreasonably deny insurance claims and payments of benefits or violate any law governing unfair claims settlement practices.
If an insurance company denies your valid claims, you may take appropriate legal action to seek relief or punitive damages in court. Call Attorney Scott Terry today to help seek legal recourse and fight for what rightfully belongs to you.
How a Knowledgeable Attorney Can Help You
Getting hurt in a negligent accident can be difficult and overwhelming. The whole situation can be even more unsettling if the insurance company defaults on its contractual obligations and denies or undervalues your injury claims. Thankfully, you may be eligible to take appropriate legal action against an insurance provider that is negotiating in bad faith. A knowledgeable personal injury attorney can help you understand your possible legal options and decide the best course of action.
Attorney Scott Terry is committed to offering experienced legal counsel and reliable representation to clients in complex personal injury cases involving bad faith insurance tactics and denied claims. As your legal counsel, he can investigate the insurer's actions, explore your available legal options, and determine how to proceed with your insurance claims or hold the insurance company liable for their bad faith actions. Using his extensive experience, Attorney Scott Terry will fight diligently to protect your best interests and help recover the maximum possible compensation.
Never leave your fate in the hands of insurers that won't protect your best interests. If the insurance carrier has denied your valid injury claim or negotiated using bad faith tactics, you may take appropriate legal action against them. Contact Terry Law Firm, P.S. today to schedule a simple case assessment with an experienced personal injury attorney. The firm is proud to serve clients across Sumner, Washington, and the surrounding areas of Puyallup, Kent, Auburn, Bonney Lake, Orting, Lake Tapps, as well as King, Pierce, and Thurston counties.